SY Diva Andaman offers cruises around the Andaman Sea up to the remote area of the Mergui Archipelago in Myanmar.
All the cruises are tailored to meet the expectations of people who wish to relax and enjoy diving, water sports or sightseeing in an exclusive and special environment.
Imagine a journey into the romantic past of the early 20th century but with a service of a 5* cruise vessel!
This is what you get on board of SY Diva Andaman a 35 meter classic sailing yacht.
With only 7 cabins she accommodates a maximum of 14 persons and guarantees that each guest can have a real feeling of privacy anywhere on board. All Cabins are Deluxe and guests can choose from 4 double cabins with queen size beds; 2 twin cabins with large bunk beds; 1 triple cabin with a queen size bed and a large bunk bed.
All cabins are fully furnished with air-conditioning, en-suite bathroom and LCD screen.
Built with traditional materials in a typical Southeast Asian style, SY Diva Andaman complies with all international marine safety standards. Appreciate the broad range of activities such as scuba diving, island touring, leisure fishing and kayaking and be delighted by tasty Thai, Asian as well as International cuisines within the worldwide renowned Thai Hospitality.
Boat type
Boat type
Sailing - Motor Vessel
Built
2009
Length
35 m
Width
7 m
Engines
1 x 425 HP Cummins engine
Max. speed
10 knots
Cruising speed
7 knots
Diesel tank
8.000 liter
Fresh water tank
4.000 liter
Water maker
5.000 per day liter/day
Electricity
Voltages
220V — 24 hours per day
Generator
2 (50 kVA and 30 kVA) Cummins
Diving
Tanks/Nitrox
12 litre aluminium tanks with international fittings
Nitrox fill station
yes
Air compressors
Bauer dive tank compressor
Dinghy
2 x 30 HP Yamaha dinghies
Ratio guide to divers
1 : 4
Cabin and Crew
Max guest
15 Guests
Cabins
7 cabins : 4 double cabins with queen size beds; 2 twin cabins with large bunk beds; 1 triple cabin with a queen size bed and a large bunk bed.
Crew
Captain, Cook, Engineer, Maid, Masseuse, Stewardess, 2 Deck Hands, Cruise Leader, 4 Divemasters
Navigation & Communication
Radar, Depth Sounder, GPS,
Safety
Life raft , Samyung marine DSC/VHF radio, Suzuki GPS, Koden radar , Suzuki sounder , Bilge pump alarm, 2 parachute flares & 4 normal flares, Searchlight & loudhailer, MFA box, Continuous flow & DV oxygen onboard - enough for 2 hours , Life jackets in the cabins , Fire extinguishers
Other Special / Facility
DIN adapters available FOC,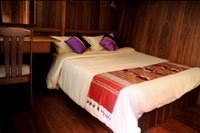 Deluxe Double
4 double cabins with queen size beds; all are airconditioned, with en suite bathroom, fridge, TV, bathrobes, safe
Similan - Richelieu Rock - 7 days Safari
| Departure | Arrival | Days/nights | Deluxe Double |
| --- | --- | --- | --- |
| 31.12.2017 | 06.01.2018 | 7 / 6 | |
| 07.01.2018 | 13.01.2018 | 7 / 6 | |
| 28.01.2018 | 03.02.2018 | 7 / 6 | |
| 11.02.2018 | 17.02.2018 | 7 / 6 | |
| 25.02.2018 | 03.03.2018 | 7 / 6 | |
| 04.03.2018 | 10.03.2018 | 7 / 6 | |
| 25.03.2018 | 31.03.2018 | 7 / 6 | |
| 21.10.2018 | 27.10.2018 | 7 / 6 | |
| 28.10.2018 | 03.11.2018 | 7 / 6 | |
| 28.10.2018 | 03.11.2018 | 7 / 6 | |
| 04.11.2018 | 10.11.2018 | 7 / 6 | |
| 04.11.2018 | 10.11.2018 | 7 / 6 | |
| 11.11.2018 | 17.11.2018 | 7 / 6 | |
| 11.11.2018 | 17.11.2018 | 7 / 6 | |
| 25.11.2018 | 01.12.2018 | 7 / 6 | |
| 25.11.2018 | 01.12.2018 | 7 / 6 | |
| 02.12.2018 | 08.12.2018 | 7 / 6 | |
| 03.12.2018 | 07.12.2018 | 5 / 4 | |
| 09.12.2018 | 15.12.2018 | 7 / 6 | |
| 16.12.2018 | 22.12.2018 | 7 / 6 | |
| 23.12.2018 | 29.12.2018 | 7 / 6 | |
| 23.12.2018 | 29.12.2018 | 7 / 6 | |
| 30.12.2018 | 11.01.2019 | 13 / 12 | |
| 06.01.2019 | 12.01.2019 | 7 / 6 | |
| 27.01.2019 | 02.02.2019 | 7 / 6 | |
| 10.02.2019 | 16.02.2019 | 7 / 6 | |
| 17.02.2019 | 23.02.2019 | 7 / 6 | |
| 24.02.2019 | 02.03.2019 | 7 / 6 | |
| 10.03.2019 | 16.03.2019 | 7 / 6 | |
| 17.03.2019 | 23.03.2019 | 7 / 6 | |
| 24.03.2019 | 30.03.2019 | 7 / 6 | |
Myanmar - 7 days cruise
| Departure | Arrival | Days/nights | Deluxe Double |
| --- | --- | --- | --- |
| 17.12.2017 | 23.12.2017 | 7 / 6 | |
| 24.12.2017 | 30.12.2017 | 7 / 6 | |
| 21.01.2018 | 27.01.2018 | 7 / 6 | |
| 18.02.2018 | 24.02.2018 | 7 / 6 | |
| 18.03.2018 | 24.03.2018 | 7 / 6 | |
| 18.11.2018 | 24.11.2018 | 7 / 6 | |
| 18.11.2018 | 24.11.2018 | 7 / 6 | |
| 30.12.2018 | 05.01.2019 | 7 / 6 | |
| 03.02.2019 | 09.02.2019 | 7 / 6 | |
| 03.03.2019 | 09.03.2019 | 7 / 6 | |
Price is subject to change without prior notice